Published Dec 08, 2022 by Xiph
'Tis the season to be jolly, but keep in mind the festive season is also fraught with many dangers ─ we're talking about Christmas scams. Scammers are especially active during this time of year, either promoting dodgy deals online or preying on people's goodwill during the season of giving. To help keep your Christmas merry, we've rounded up 12 Christmas scams to watch out, and explain how to avoid them.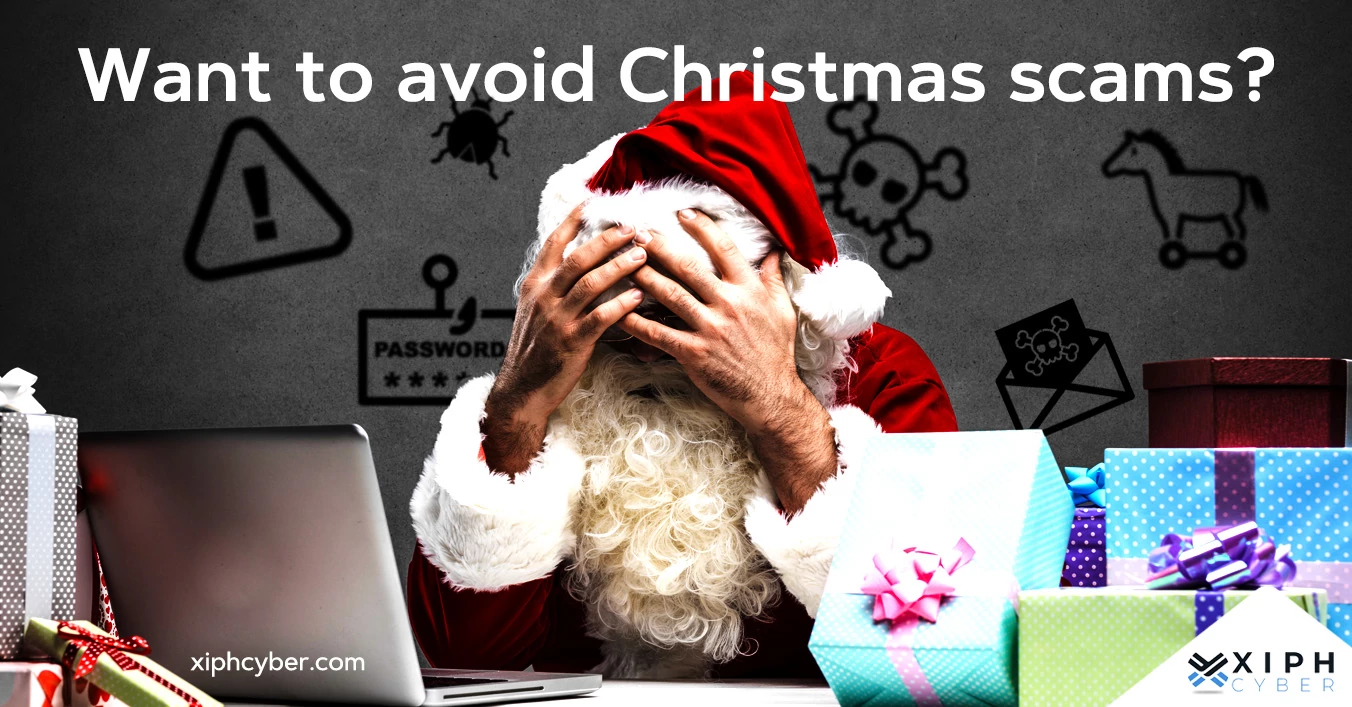 Common Christmas scams to watch out for
1. Holiday accommodation scams
It's natural to yearn for a break over Christmas but beware of travel and accommodation scams when booking your holiday. Look out for fake accommodation vouchers, scam travel clubs and scammers asking you to pay upfront deposits for properties that aren't available for rent like Airbnb homes or condo rentals.
How to avoid them: Check that travel and accommodation offers are legitimate by going directly onto the company's website and making an enquiry. Most scams can be identified this way. Before buying any holiday or accommodation voucher, check with the provider that the offer is a) genuine and b) that it will be honoured during the period that you intend to travel.
2. Flight booking scams
Scammers set up fake websites that appear legitimate or websites that look and feel almost identical to real travel agencies like Flight Centre or Skyscanner to make you believe you're purchasing genuine flight tickets. When you arrive at the airport to check in, you may find your booking was fake.
How to avoid them: Always buy your flight tickets from a legitimate travel agent, flight booking platform or from the airline directly. Be cautious when deciding to purchase unusually cheap airfares as these deals are often too good to be true
3. Online shopping scams
Found the perfect gift online for that special someone? Beware of bogus websites, fake classified ads, and fake auction listings, especially around Christmas as scammers know that's the season when shoppers have the money and will to spend it. Be wary of advertised items that are too good to be true and avoid making payments outside of the website's official payment systems.
How to avoid it: Check that any online shopping site you visit is secure by ensuring there's a padlock in the address bar next to the URL and that it begins with 'HTTPS' on the checkout page. Google the URL/address and the company's name and check out customer reviews, complaints or any indication it could be a scam. You can also use Google's Safe Browsing Transparency Tool which is designed to identify unsafe websites across the web and notify users and website owners of potential harm.
---
Read more: HTTP vs HTTPS: Which is more secure?
---
4. Parcel delivery scams
Australians send and receive millions of parcels at Christmas time each year, which means more hackers will be on the lookout for extortion opportunities. Most parcel delivery scams involve fake texts and emails purporting to be from legitimate shipping companies like Australia Post or Toll Courier, claiming that a non-existent parcel was unable to be delivered to you ─ and offering to redeliver the parcel for a fee and may also ask for your personal details.
How to avoid them: If you're expecting parcels from family or friends, it's important to be aware of parcel delivery and collection scams. Be wary of unsolicited messages from delivery service companies that ask you to input any personal information or request a payment. You should never have to pay anything for a delivery being sent to you.
5. Online gift card scams
Gift vouchers make handy presents if you're unsure what to buy for a loved one or someone hard to buy for. Recent scams have involved fake gift vouchers being sold online or via social media sites. Scammers may even request your personal details to finalise the purchase, which will never arrive or be honoured. You may also get sent an unsolicited fraudulent e-card with the potential to deliver malware to your device(s).
How to avoid them: Only purchase gift cards from reputable online vendors. If you're ever in doubt about the authenticity of a gift card offer, contact the company on its official customer service number to verify that it's genuine. Do not contact them via social media as hackers could be behind it. Delete and never open an e-card from an unknown party. If received from a known party, confirm with the sender before opening anything.
---
Read more: Common online scams to avoid (your little black book)
---
6. Charity scams
Christmas is a time for giving, and this is a time when many legitimate charities appeal for donations of money, food, clothing and children's gifts. However, scammers may try to trick you into donating your hard-earned cash to bogus charities. Some may impersonate genuine charities to ask for donations or your bank details. They may even go as far as setting up a fake website that looks like those operated by real charities. Some scammers will call or email you requesting a donation.
How to avoid them: Beware that scam charity emails and websites may use logos and branding that look nearly identical to those of real charities. Always check that a website is legitimate before donating, or better yet, approach a charity organisation directly to donate or offer support.
7. Puppy scams
Online pet scams are rife during the silly season as families shop for new puppies and pets to introduce to the family at Christmas, but many will end up empty-handed and disappointed, ripped off by a puppy scam. Red flags to look out for include social media ads offering puppies for sale at discounted prices, and sellers asking for money upfront to cover shipping, insurance, and pet vaccinations. There are also a lot of pet scamming websites out there, so it's important to stay alert. While it's possible to safely buy a pet online, you'll want to do a lot of research beforehand and avoid any 'click and ship' websites.
How to avoid them: The best way to purchase a puppy or pet outside of a pet store is to meet the breeder (and the puppy you're buying) in person. If you must buy a pet online, make sure it's from a verified breeder with a Breeder Identification Number (BIN) or a Breeder Registration Number (BRN). Ask the seller to jump on a video call with you and ask to see the furry friend!
8. Door-to-door scams
A lot of legitimate traders and businesses go door to door to sell products (i.e. seasonal treats, gift cards, etc.) and services (i.e. home security installation, home valuations, etc.) around Christmas but unfortunately, so do scammers ─ many lurk around neighbourhoods to try to sell poor quality or fake products, or donation pledges for bogus charities.
How to avoid them: Ask to see the credentials and identification of anyone who comes to your door. Remember, you don't have to let them in, and you can tell them to leave anytime you want. Don't agree to any offer upfront if you're interested and carry out some research before deciding. Google the company name, read customer reviews and contact them to see if they do in fact have door sales teams.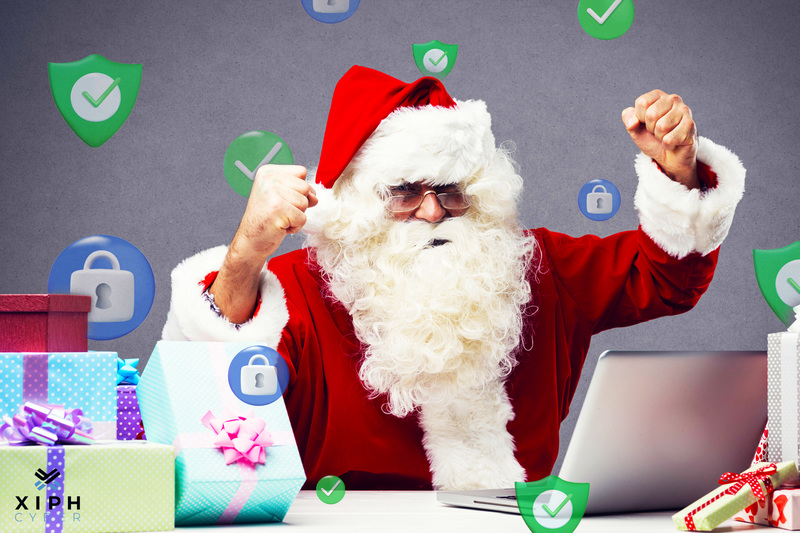 9. Telephone scams
You may receive end-of-year scam calls usually letting you know of opportunities like free gym memberships to kick start the New Year, (scammers may tell you you've been referred by a friend), fake government grants that have been approved, or free product giveaways, lottery entries, etc.
How to avoid them: Never provide or confirm your personal or credit card details over the phone unless you made the call yourself and you trust that you're speaking to a genuine business or service provider. Be cautious of unsolicited calls claiming to be from a government department, or a business or private organisation requesting personal information or payment for various services or fees.
10. Seasonal job scams
Retailers and supermarkets hire thousands of casual workers over the Christmas period each year but beware of fake recruitment ads. Scammers prey on vulnerable job seekers, offering them bogus well-paid positions. Job scammers will often send you an email or letter claiming to be from a legitimate business and offer you a position. It would be followed by instructions to go through as part of the recruitment process. Fraudsters will likely ask for your personal and bank details to set up 'payroll'.
How to avoid them: Before you fill out any job application or provide any personal or bank details, you should research the company name, address, phone number and website. Call the human resources (HR) department to verify that the company is hiring. Ask about the correct application process. Be sceptical if asked to pay any upfront fees.
11. Letter from Santa scams
It's not uncommon for parents, grandparents, and caregivers to receive offers for a personalised letter from Santa Claus for their children. This scam is usually a form of email promoting 'official' letters from the jolly old fella himself to your little one for a small price. Some offers may be legitimate, but many scammers use this trick to gain your personal information, including your postal address and bank details. The letter from Santa may never arrive.
How to avoid them: Do not reply to any unsolicited offers for a Santa letter, and instead order a letter from Santa online from a reputable brand with a secure website and payment system, customer reviews, etc.
12. Prize & lottery scams
A lot of businesses and organisations run competitions and lotteries at Christmas but keep an eye out for similar scams that promise a surprise win. Some common prize and lottery scams include Christmas prize home draws, and home lotteries, Christmas gift boxes, etc. These scams try to trick you into giving money upfront or your personal information to 'verify' your identity and claim a prize from a lottery or competition you have or may not have entered.
How to avoid them: If you think you may have inadvertently entered a competition or sweepstake, look up the company online, quiz their customer care team and ask for a letter of confirmation. In any case, you should never have to spend money to receive a prize.
How to avoid Christmas scams
First things first ─ never share your personal information, credit card/banking information, or passwords/PINs with any third party without checking their legitimacy. Your personal information makes up your identity so guard it preciously.
It's also important to keep all your passwords secure and to never use the same password across all your online accounts. While this is convenient, it exposes you to identity theft. Instead, use a secure password manager to manage all your passwords. You'll just need to remember one master password to log into your chosen password manager, which will house all your important passwords for banking, social services, social media, etc.
---
Read more: Are you at risk of identity theft?
---
When it comes to cyber security and scams, prevention is always the best protection. It's much harder to recover from a data breach, cyber attack or fraud than it is to implement steps to protect your devices, network and personal information.
If you're shopping online this Christmas, make sure to stick to known retailers and big-box retailers like Amazon who take website security seriously. If you notice something strange, it's best to double-check the website address spelling to confirm you're using the real one
The best way to avoid falling victim to an online scam is to have adequate internet security. Make sure your devices have an anti-virus software installed and that you use a Virtual Private Network (VPN) anytime you browse the web. This will prevent hackers from seeing your traffic information if you click on something you shouldn't. In any case, you should only browse reputable websites that use proper web security protocols such as SSL encryption, which means you should see 'HTTPS' (instead of HTTP) in the browser along with a padlock icon next to the URL address.
For more cyber security tips, contact us via email: [email protected].
---