Published Apr 19, 2023 by Xiph
Proactively managing cyber threats is just as crucial to businesses as tracking cash flow, customer acquisition costs, and financial performance. Cyber security analytics can help your organisation detect and respond to cyber threats more quickly and effectively.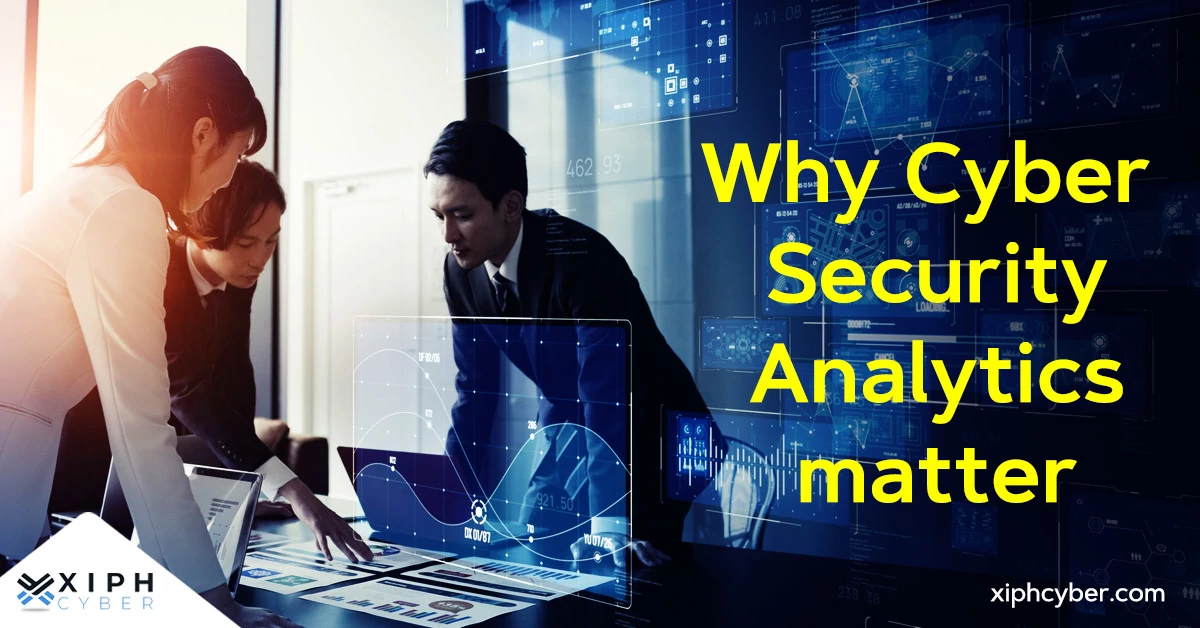 What is cyber security analytics?
Security analytics uses machine learning (ML), mathematical models, and other advanced analytics to identify, monitor and protect an organisation's IT systems and wider digital environment. It typically combines data collection, aggregation, and analysis to classify cyber security risks, manage existing cyber threats and design a proactive cyber security strategy to ward off future dangers. Security analytics investigate cyber capabilities and shortcomings to bolster cyber protection and develop security training programs for businesses and users.
How does cyber security analytics work?
Security analytics involves aggregating data from numerous sources like user behaviour data, endpoints, business applications, operating system event logs, firewalls, routers, and virus and vulnerability scanners to detect cyber threats early or before they impact your network, systems, or data. It also helps to monitor and measure how your security efforts are performing and what may need fine-tuning.
Combining and correlating data, machine learning technologies, and algorithms gives organisations one primary data set to work with, which then allows them to have better visibility of their cyber posture and areas of vulnerability in real-time.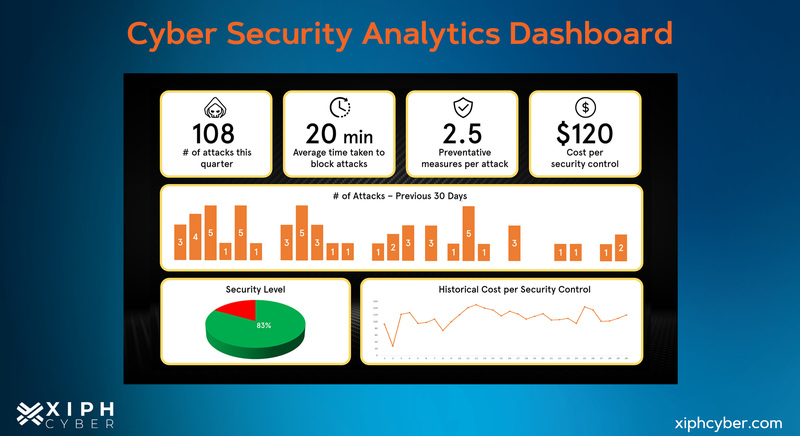 Why do businesses need security analytics?
Australian businesses reported a cyber attack every seven minutes in the last financial year, according to the latest annual cyber threat report published by the Australian Cyber Security Centre (ACSC). Cyber crime has significantly increased over the past decade. As a result, cyber security has emerged as one of the top priorities for senior management and business owners, both in terms of cost and resources.
Traditional software-based protection can no longer keep up with the rapidly changing cyber threats landscape in specific industries, user groups (i.e. remote workers), attack vectors, and across time. Cyber security analytics not only give your business better visibility of complex IT infrastructures and internal networks but also provide better integration of data points from various sources and detection and forensics capabilities – all in one place. This essentially allows businesses to stay one step ahead of malicious actors as they have better coverage of their threat landscape.
It's worth noting that cyber security analytics should be considered as an investment into the future and continuity of your organisation, so cost-cutting is not an option. If you're still unsure consider the cost and impact a cyber attack or data breach would have on your business versus the cost of cyber security.
How to use cyber security analytics
The benefits and possibilities of cyber security analytics are endless, but the most common uses for it include:
Analysing user traffic to identify patterns indicative of cyber attacks
Monitoring user behaviour across networks
Identifying attempts at data exfiltration
Detecting threats before it's too late
Monitoring the activity of remote and internal employees
Identifying insider and external threats
Detecting compromised accounts or credentials
Detecting the improper use of user accounts
Investigating unknown events or incidents
Demonstrating proper data handling
Adhering to governance regulations
Ensuring compliance with sector or industry standards.
What are the different types of security analytics tools?
There are various cyber security analytics tools out there that help enterprises reduce their attack surface and better manage their data. The best security analytics applications use both real-time and historical data to detect and diagnose threats. Common features of standard security analytics tools include:
Behavioural analytics: Behavioural analytics combines big data, and machine learning to examine behavioural patterns and user trends, applications, and devices to identify abnormal behaviour or detect anomalies in traffic or network that may indicate a security breach or attack.
Network analysis and visibility (NAV): NAV solutions pull data from network and endpoint sources to analyse end-user and application traffic as it flows across a network. This provides awareness of the traffic and data moving through your entire computer network.
Security information and event management (SIEM): SIEMs give businesses a bird's eye view of activity across their entire network in real-time. A SIEM tool collects data on network traffic, system events, and potential risks, and performs analytical functions, such as correlation and statistical analysis.
External threat intelligence: While not security analytics per se, external threat intelligence helps identify threats outside an organisation. This may include domain monitoring, open-source intelligence, dark web chat rooms where threats may be discussed, etc.
Forensics: Forensic tools analyse log files and digital footprints to investigate past or ongoing attacks and determine how attackers infiltrated or compromised systems. Forensic tools also identify cyber threats and security vulnerabilities that could leave an organisation susceptible to a future attack.
Security orchestration, automation, and response (SOAR): SOAR is a combination of software and tools that handle data gathering capabilities, analysis, and threat response. This helps organisations streamline security operations in key areas like threat and vulnerability management, incident response, and security operations automation.
Cyber analytics vs cyber security: What's the difference?
Cyber analytics is the convergence of data analytics and cyber security. Data analytics uses large data sets to identify and monitor security risks or trends across networks, while cyber security is the combination of tools and technologies used to defend digital assets against malicious attacks. In other words, cyber security analytics uses data analytics to achieve cyber security objectives.
A final word
Cyber security threats are rapidly evolving and becoming a major challenge across many sectors. Businesses and their IT teams need to be able to identify, analyse and manage security risks in real-time. Having the right cyber security analytics tools in your arsenal can help organisations stay one step ahead of cyber criminals and their competition. For more information, contact us via email: [email protected].
---